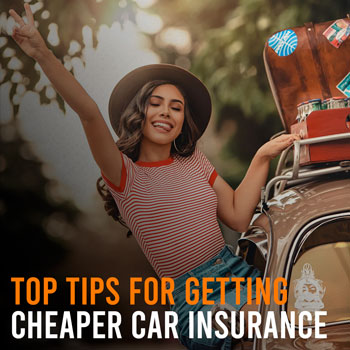 Turning Your Current Car Insurance into Cheap Car Insurance
Everyone needs car insurance. Whether you have a spotless driving record, or have been in multiple fender benders, car insurance is a necessary part of owning and operating a vehicle. However, many car owners are unaware that their current car insurance policy may be unnecessarily high. We've put together a list below of handy tips and tricks for those that are new to car insurance, as well as those who already have car insurance, on obtaining the best policy for the lowest price.
Install an Anti-Theft Device
If you have a newer car, you'll likely have a theft device already installed in your vehicle. Some activate automatically when you lock your car, and others need to be activated, but having this system installed in your car can help lower your car insurance cost. Also, some states offer extra discounts for such things as window sketching.
Multiple Car Discount
Sometimes insuring two cars costs the same as insuring one. If you have two cars it is important you check with your insurance agent, or while getting your online quote, to make sure you are getting this discount if you aren't already. Even if you are planning on selling your second car, it is probably worth keeping that car on liability coverage so that you can still get the multiple car discount.
Usage-Based Insurance Device
Do you have great driving skills? You can install a device into your car that monitors and transmits your driving data to your insurance company. Your insurance company can then potentially lower your rate depending on the data it receives from this device.
Stick With a Yearly Policy
It may be tempting to choose a shorter car insurance policy but choosing a yearly policy can have better long-term savings for you. Purchasing a yearly policy ensures that your rate won't be changed for an entire year as opposed to a six month policy that can fluctuate throughout the year.
Check Your Mileage
When your car insurance agency asks you, "How many miles do you drive to work one way?", this is a crucial question that will divide you into a certain class. Each class can have a significant difference in price, so make sure that you are giving your agent an accurate number so that you aren't paying more for your car insurance.
Look Into Storage Coverage
If you are planning on not using your car for a portion of time, look into comprehensive storage coverage for your car. This can save you money on your car insurance as you are unlikely to get in a collision or need liability coverage while your car is off the road.
Make EFT Payments
In an effort to be more environmentally friendly, many insurance companies are now charging for any payments made by mail. You can save money simply by switching to automatic payment deductions.
Defensive Driving Courses
Some companies will offer significant discounts if you participate in a defensive driving course. Check with your car insurance provider to see if you could qualify for this discount and where to take the course.
Combine Home and Car Insurance
A simple way to reduce your insurance costs by up to 20% percent is to combine your home or renters insurance with your car insurance. Ask your provider what kind of discount they offer for bundling these products.
Monitor Your Credit Rating
Believe it or not, many car insurance providers are monitoring your credit rating and basing your policy on what they find. If you take steps to improve your credit rating, chances are your insurance cost will decrease as well.
Forgo Rental Car Coverage
If you have comprehensive and collision coverage on your current car, you might not need rental coverage as well. If you have a fairly new car you should be fine but if your car is only worth a few thousand then you should opt for the additional coverage.
Get Help
Are you in the process of obtaining car insurance? Are you overwhelmed or in a high risk category? Dunham Insurance Services is an independent agent offering premium insurance products throughout Florida as well as the rest of the United States. If you're interested in finding a specific type of car insurance coverage or want to revise your current insurance policy, don't hesitate to contact us today to get a custom rate quote today!