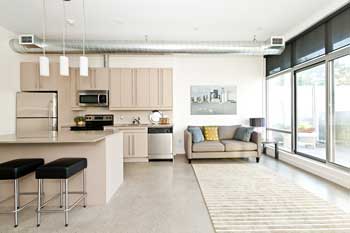 The things that you own and for which you've worked hard to attain can be damaged or destroyed in an instant by fire, lightning, storms, or burst pipes to name just a few examples. Vandalism and theft are also risks, yet according to statistics, only 37% of renters have a renter's insurance policy.
A common misconception is that if you're renting or leasing your apartment or home, your landlord's insurance will cover your possessions and any liability for injury to visitors in your home. Although in reality, your landlord's insurance covers only his structure, not your belongings.
If you consider having to replace everything you own, or the responsibility for an injury to someone in your home, it's easy to identify the risk for sizeable financial loss. What many people don't realize is that renter's insurance policies are typically very affordable and can cover much more than you may have considered.
Renters insurance generally offers protection in three ways:
Personal possessions – Coverage can be chosen for their actual cash value or for replacement cost in the event they're stolen, damaged or destroyed by any number of disasters stated in the policy.\
Liability – If someone is injured while in your home, it can cover both the medical expenses related to those injuries, as well as your legal fees, if any.
Temporary Living expenses – If you have to move out of your home temporarily, it will typically cover the cost of a hotel or similar accommodation until you are able to return to your home.
Additionally, in the event of theft or loss, renter's insurance can cover items in your car or a storage unit as well as in your home. This could include aftermarket stereo equipment, laptops, purses or wallets, and other valuables. This is because a renter's insurance policy can protect your belongings wherever they may be.
If you or your child will be heading off to college this fall, it's an especially important time to consider a renter's insurance policy to cover those items which may kept be in a dorm or apartment and any injuries that could happen within it.
Taking an inventory of what you own can help you and your insurance agent decide the coverage that's right for you. It's a great idea at the same time to take pictures and record the serial numbers of electronics, and then store the completed records somewhere safe.
If you would like to learn more about renter's insurance and how affordable a policy can be, Dunham Insurance can offer you trusted, expert advice. We will be pleased to assist you with information about choosing your coverage limits and deductibles, along with a free quote. At Dunham Insurance we offer a wide-range of tailor-made policies including automobile, home, rental, business, marine, life, special event and cyber security insurance among others. Please call 954-564-7772 or visit www.dunhamins.com to discover how we can help and to receive your free quote.