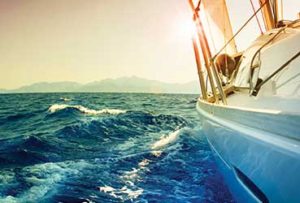 Learn About Boat Insurance
Having a boat is the ultimate freedom. However, many homeowners think that their homeowner's policy adequately protects their boat if any damage occurs due to an accident. Did you know that many homeowners' policies are limited, or don't cover marine-specific risks such as wreck removal, salvage work, or environmental damage? That's why investing in boat insurance is so important.
If you are planning on sailing further from home, you need a better boat insurance policy than what a rider to your homeowner policy may cover. Learn more about the ins and outs of boat insurance and how you can ensure your boat is protected for years of water adventures to come!
What Does Boat Insurance Cover
How and where you sail your boat will define the type of coverage you need. For example, an "all risk" boat insurance policy can be misleading. It doesn't cover you from every type of loss. It just means that it will protect your boat from any risk that is not specifically left out in the policy.
Exclusions can include things like wear and tear, denting, animal damage, design defects, ice, or freezing. You might be able to add extra coverage like: personal effects, uninsured boaters liability, and towing and assistance. Most boat insurance policies will cover anything permanently attached to your boat such as: anchors, trolling motors, tools, seat cushions, and life jackets. The most common types of add-ons to your basic boat insurance policy include:
Towing – Towing your boat to safety can cost about $400 an hour.
Salvage – This will cover any costs associated with removing your boat due to damage.
Specialized coverage – This will cover you for a specific piece of equipment on your boat like navigation equipment.
Cruising extension – You can get temporary additional coverage if you are planning on leaving the US (typically includes Mexico or the Bahamas).
How Much is Insurance on a Boat?
As with any other insurance policy, boat insurance costs will vary depending on many factors. Here are some things that insurers will take into consideration when creating a policy and a price tag:
Boating safety education – Are you formally trained and certified to drive a boat?
Good driving record – Both boating and driving records will be taken into consideration.
Cruising area – This is the area where you boat.
Deductible – The higher your deductible is the lower the premium.
Liability limits – The higher your limit is, the higher your cost will be.
Dunham Insurance Services is an independent insurance agency offering the best boat insurance policies throughout Florida and the rest of the country. Their mission is to reduce your overall insurance costs by providing the very best business, home, auto/marine, commercial, and personal umbrella policies. Contact them today to discuss your boat insurance needs!