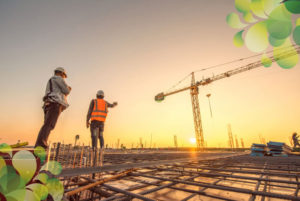 A Guide to Contractor Insurance
If you work in the construction industry, odds are that you've dealt with construction insurance in one form or another. Whether it be workers' compensation, general liability, or bonding, generally some sort of commercial contractor insurance is necessary before any work can get started.
It's important to note that no two contractor insurance policies are the same. Every business is unique and therefore so is said coverage for that business. If you are going to set up your own construction business, it's crucial that you understand the basics of what type of contractor insurance you have and also what type of insurance you could need in the future. Keep reading to learn more about contractor insurance and how it can protect your business.
Contractor Liability Insurance
This is considered an essential form of coverage you would need if you are a tradesperson or contractor. General liability coverage covers any claims that arise out of damage a contractor causes to a third party. This will cover any risks associated with your ongoing operations while at a job site.
Make sure to also include products and completed operations insurance as it is often excluded from general liability insurance policies. This will protect you after your project is completed.
Tool Insurance
This policy will cover most contractors' equipment. From hand tools to heavy machinery, equipment coverage will protect your tools in the U.S. This can be purchased on its own, or as an add-on to your contractors' insurance policy.
Workers Compensation
Workers' compensation covers the employees of a company if they are injured while carrying out their job duties. This typically will be the most expensive part of insuring your business but is essential for protecting you and your business from going bankrupt if an employee is injured on the job.
Commercial Auto Insurance
If you or someone in your company uses a pickup truck or other vehicles while carrying out work, this will be another piece of essential coverage for you. A commercial auto policy covers any property damage or bodily harm that was caused by your vehicles as the result of an accident.
Leased Equipment Coverage
If you are a contractor that works on larger projects, you may be required to purchase an insurance policy that covers any of the leased equipment you use from theft, loss, or damage.
$2-5 Million Liability Umbrella
Outside of your general liability insurance, most larger construction projects will require that you have an umbrella insurance policy that increases your liability limits beyond the normal cap of $1 million per occurrence. An umbrella policy raises the limits of your general liability insurance, workers compensation, and automobile liability based on the amount of extended coverage you purchased.
Dunham Insurance Services is an independent agency offering the best insurance policies throughout Florida and the rest of the country. Their mission is to reduce your overall insurance costs by providing the very best business, home, auto/marine, commercial, and personal umbrella policies. Contact them today to discuss your contractor insurance needs!