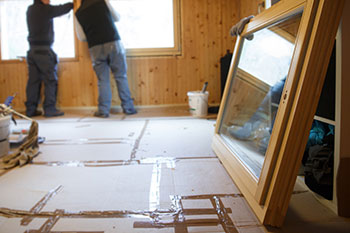 Vandalism, theft and damages from Mother Nature at a construction site can cause both costly delays and serious expenses. It's even possible to have multiple occurrences during the time it takes to complete a construction project. As a contractor or homeowner who is building or renovating a home or other building, you may need to protect yourself from unnecessary risks.
Builder's risk insurance, which is sometimes referred to as course of construction, can provide protection from these losses. It's a specific type of property coverage for buildings under construction and can include both the structure and the materials which will be used in your construction.
The total completed value of the structure including materials and labor, but excluding the land value, is determined and the policy provides coverage up to that amount. The insurance is meant to cover the temporary construction period and so is generally written for time frames of either three, six or twelve months. If the construction is not completed within this time frame, the coverage can usually be extended once more.
Although a builder's risk insurance policy can be tailored to meet different needs, it typically provides coverage for damages caused by:
Fire
Wind
Theft
Lightning
Explosion
Vandalism
Vehicles
A few of the items that may be covered include:
Materials for the project while they're being transported to the jobsite
Materials for the project that are being stored within a secured location
Scaffolding and temporary structures that are on the site
Water damage from the backup of sewers and drains
Fire department service charges
Valuable documents such as site plans and blueprints
If you are building or remodeling, Dunham Insurance can help you assess your risks and choose your coverage when you need a builder's risk insurance policy. If you'd like to find out more about a builder's risk insurance policy, Dunham Insurance can offer you trusted, expert advice. We will be pleased to assist you with information about why you need it and help you with choosing the right type of policy with a quality provider. At Dunham Insurance we offer a wide-range of tailor-made policies including automobile, home, rental, business, marine, life, special event and cyber security insurance among others. Please call 954-564-7772 or visit www.dunhamins.com to discover how we can help and to receive your free quote.