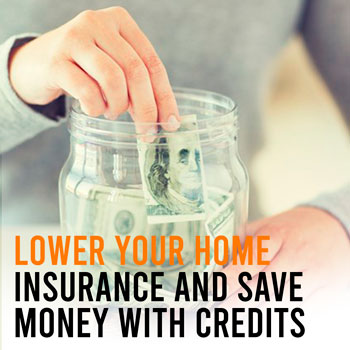 Finding the best premium to cut your insurance costs and save money is important. Whether you're in the process of reviewing your home insurance or shopping for a new insurance policy, people think that if they already have a price it's the best it can be. Over time though, your personal situation and the discounts an insurance company provides can change; so it's worth contacting your insurance provider periodically to see what can be done to reduce your home insurance costs. Keep scrolling to read our top tips to lower your home insurance costs without reducing your coverage by using credits and discounts.
Home Improvement/Green Home/New Construction/Renovation Credits
As you invest in your property with updated roofs, windows or wiring, many of the risks are also reduced with your property. Make sure your home insurance provider is aware of any updates or upgrades you make to your home and see if you qualify for any credits because of this.
Loyalty Credits
Loyalty credits are discounts an insurance provider may be willing to give you if you have been using them for multiple years. Also known as a renewal discount or a discretionary credit, these are discounts a company can give you if you ask for it. Let your insurance company know you are shopping for a new policy and see if they would be willing to offer you any discount. It never hurts to ask.
Water Protection Device Credits
Water damage is one of the major sources of home insurance claims so if you can prove you have extra protection against this, some insurance companies will discount your premium because of this.
Good Credit Score
Insurance companies have found that a good credit score is directly linked to fewer claim incidents. It's always worth asking your insurance provider if you can get a discount linked to your good credit score.
New Homeowner Credit
Not all insurance companies offer a new homeowner credit, but it's always worth asking for it if this is the first time you have owned a home.
Gated Community or HOA Credit
Living in a community with increased security like camera monitoring, security guards or even just a neighborhood watch could get you a discount.
Alarm System With More than Fire and Burglary Credit
Having an alarm system that monitors fire and burglary is great, but many people will forget to inform their insurance company when they upgrade their home security and alert systems. Additional protection devices such as video cameras, low-temperature detectors, water leak sensors or cellular backups could add double the discount of a standard fire or burglar alarm. Also be aware that a monitored alarm system provides the best discount, as opposed to a local alarm, due to its increased effectiveness.
Dry Hydrants
If you live in a rural location without close proximity to a fire hydrant, investing in a dry hydrant can save you thousands oh your home insurance premiums. According to the National Fire Protection Association, over 1.3 million fires were reported in the United States in 2017. If your home is located in a place that doesn't have access to an adequate water supply if emergency services are needed, the price of your insurance will likely be higher. Ask your provider what kind of discount they offer if you have a dry hydrant.
High Tech Sensor Credits
Some insurance providers will offer a 5 to 10% discount in smart home or high tech sensor credits.
New Policy Discount
Like cable companies, insurance companies will offer different rates depending on whether you are a new or existing customer. If you aren't getting the rate you want, don't rule out an old home insurance provider as they may offer you a "new client discount" if you go back to them. Also, be sure to ask your current insurance provider what is the best rate they can offer you before you cancel to make sure there aren't any further discounts they can offer you. If you do switch companies, don't forget to ask your previous provider for a "letter of claims experience" to prove how long you were insured.
Impact Resistant Roofing
Some insurance companies will offer a significant discount if you have installed impact-resistant roofing on your property. In hurricane prone areas such as Florida, this could be a great way to invest in your property and save you money on your insurance premiums.
Personal Discounts
If you're a non-smoker this can reduce your home insurance policy as it may reduce the risk of your home catching fire. You could also be eligible for other discounts on your insurance policy based on your occupation, your employer, if you have a university degree or your marital status. Not every insurance company will offer these discounts but as insurance providers look to be more competitive, more of these discounts may come into play.
Dunham Insurance Services is an independent agent offering premium insurance products throughout Florida as well as the rest of the United States. If you're interested in finding a specific type of home insurance coverage or want to revise your current home insurance policy, don't hesitate to contact us today to get a custom rate quote today!