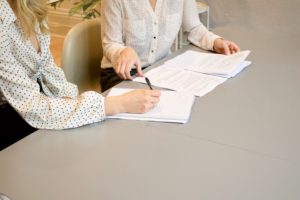 Types of Insurance
Different businesses have varying needs, including the type of business insurance policy they need to get. With numerous options available, it can be tough for a business owner like yourself to find the one best suited for your business's needs.
Most company owners start by availing of a Business Owners' Policy, which includes the 3 insurance policy types that small businesses need. A BOP covers the following:
Commercial Property
General Liability
Business Interruption
Of course, these are just the fundamental policies you can have, and your business might need more than just the basics.
At Dunham Insurance, we're committed to providing you with the best insurance policies for your business. This is why our BOPs can also be customized to fit your business's unique goals and needs aside from the three types mentioned.
Types of Insurance Coverage
As mentioned, there are different types of insurance policies available, and the three types previously mentioned are just the basic ones. With that said, here are the primary insurance types businesses need to avail of:
• Commercial Property
This type of insurance policy ensures that your business property, whether rented or owned, is protected against potential risks, such as theft, storms, or fires. However, while it covers your business equipment, it doesn't cover damages due to natural calamities, such as earthquakes or floods.
• General Liability
On the other hand, this insurance type offers coverage for damages you're responsible for, such as bodily injuries to others, personal injuries, and property damage to others.
• Business Interruption
This insurance for businesses allows the business to cover the necessary bills, like utility bills, rent, or payroll, even when it can't operate as usual. This ensures you don't lose everything while recovering from unexpected interruptions.
• Workers' Compensation
Businesses are also often required to have this type of insurance coverage to ensure that their employees are cared for even as they recover from unexpected accidents or illnesses while on the job. This also prevents businesses from suffering losses due to lawsuits over workplace conditions.
• Professional Liability
This type of coverage protects businesses from lawsuits that state they committed a mistake when rendering services to their customers.
• Commercial Auto
This insurance policy type ensures that you and your employees are protected from legal action in case of road accidents while driving the company car. This means the insurance provider will cover the expenses for injury claims and property damages resulting from the accident.
There are other types of business insurance not mentioned here, such as Cybersecurity Insurance, Product Liability, and Commercial Umbrella, which cover more specific aspects of your business.
What Types of Insurance Do I Need?
As a business owner, it's vital to get the right insurance policy for your business to ensure that you're well-protected against risks and avoid unnecessary losses. However, we understand that the high number of choices can be daunting, which is why we're here to help.
At Dunham Insurance, we are dedicated to ensuring you have the best policy for your business, regardless of its size. This is why our team of experts is ready to assist you in designing a personalized business insurance policy that will cater to all your business's unique needs.
Whether it's the basic Business Owners' Policy or something more specific, we can help you figure out what you need and find the best policy for you.
So, contact us today, and we'll be more than happy to help you out.