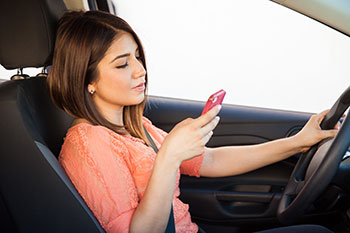 Accidents can happen at any time to anyone, and if you have a teen driver in your household, you may be especially at risk. As a case in point, on Sept. 10, 2015, an Uber driver's vehicle was hit by a car driven by an 18-year-old girl. He spent five weeks in intensive care and many months more recovering from a traumatic brain injury. Still suffering from memory problems and chronic pain among other symptoms, he can no longer work and has initiated a lawsuit asking for compensation for his losses.
The crash occurred as the teen girl used a Snapchat App while driving her car at over 100 mph. The accident has brought a great deal of attention to the issue of distracted driving, especially due to the use of electronic devices.
Statistics show that 20% of 16-year-old drivers will be involved in a crash within their first year driving. When surveyed, 56% of teens say they talk on the phone as they drive and studies show that doing so doubles the probability of an accident. Additionally, research shows that 7 out of 10 people use their smartphones while they drive; texting, emailing, and browsing the internet, in addition to using social media.
When you have an automobile insurance policy, the property damage or bodily injury you cause will be covered up to the policy limits that you've chosen. Unfortunately, the limits may not be high enough. If an accident involves several cars, there is a loss of life, or large medical or legal bills, the costs can be enormous.
If the expenses from an accident rise above your policy limits, you could be personally sued for the remaining costs. Everything you have could be at risk from such a suit. If you don't have the money to cover the costs, your home, cars, and bank and retirement accounts would all be considered assets.
That's why it's essential to consider a personal umbrella insurance policy for additional liability coverage. It can protect you and your assets from large claims and lawsuits, and can even pay for your legal defense.
Additionally, personal umbrella insurance can increase the coverage limits not only for your automobile insurance, but also for your other personal policies including your homeowners insurance and boat insurance. Best of all, umbrella policies are generally very affordable, even for large coverage amounts.
If you would like to find out more about how an umbrella insurance policy could be a good choice for you, Dunham Insurance can offer you trusted, expert advice. We will be pleased to assist you with information and with choosing the right type of policy with a quality provider. At Dunham Insurance we offer a wide-range of tailor-made policies including automobile, home, rental, business, marine, life, special event and cyber security insurance among others. Please call 954-564-7772 or visit www.dunhamins.com to discover how we can help and to receive your free quote.